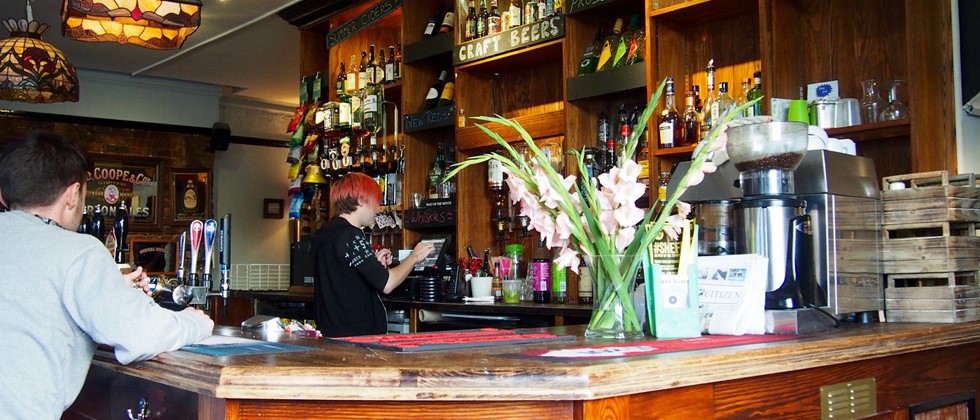 Drinks
Beer
Adnams Ghost Ship 4.5%
, Adnams
(4.5%)
This is a Pale Ale with a pithy bitterness and a malty backbone. Brewed with a selection of malts – Pale Ale, Rye Crystal and Cara – Adnams use Citra and a blend of other American hop varieties to create some great citrus flavours. Ghost Ship is inspired by one of Adnams' most haunted pubs in one of the UK's most haunted villages, the Bell at Walberswick. The shores of Walberswick are littered with eerie wrecks of smuggling ships from a bygone era
Beer
Amstel
, Heineken
(4.1%)
Our classic, golden Amstel Beer, with its very distinctive and mildly bitter taste, has over the years become well known beyond the borders of its native country.
Beer
Bones Lager
, Beavertown Brewery
(4.4%)
Bones is a brand new lager. Crisp and refreshing – a beer that will hit the spot from the first pint to the last. Make no Bones about it, this lager is dead refreshing, dead crisp and most importantly, dead good
Beer
Gamma Ray
, Beavertown Brewery
(5.4%)
Gamma Ray is a juicy tropical beer. A brew you can sit on and drink all day, rammed with juicy malts and huge tropical aromas of mango and grapefruit.
Beer
Guinness Draught
, Guinness
(4.1%)
Guinness is an Irish dry stout that originated in the brewery of Arthur Guinness at St. James's Gate, Dublin. Guinness is one of the most successful beer brands worldwide.
Beer
Heineken
, Heineken
(5.0%)
Brewing beer is a 100% natural process. Heineken beer is made from the purest ingredients.
Beer
Landlord
, Timothy Taylor's Brewery
(4.3%)
The drinkers' favourite, a 4.3% classic pale ale with a complex citrus and hoppy aroma
Beer
Neck Oil
, Beavertown Brewery
(4.3%)
Neck Oil is a light, crisp, punchy, go to beer. Extra pale base malts are used to keep it crisp and give the hops a great platform to dance on.
Beer
San Miguel
, San Miguel Brewery Inc.
(5.0%)
The unique recipe and San Miguel yeast come together to deliver a refreshing, full bodied beer with a great taste. San Miguel is a pilsner style lager, inspired by the Spanish way of life.
Cider
Inch's
, Heineken
(4.5%)
When our apples are done making golden cider, we use them to make green energy. Once we've extracted all their delicious juice, we take the leftover apple pulp and convert it into biofuel – because waste not, drink not. Every year, we're able to create enough energy to power a thousand homes with just one of our mills.
Cider
Orchard Thieves
, Heineken
(4.5%)
Crafted from the perfect mix of crisp and tart apples for an instant, fresh apple taste